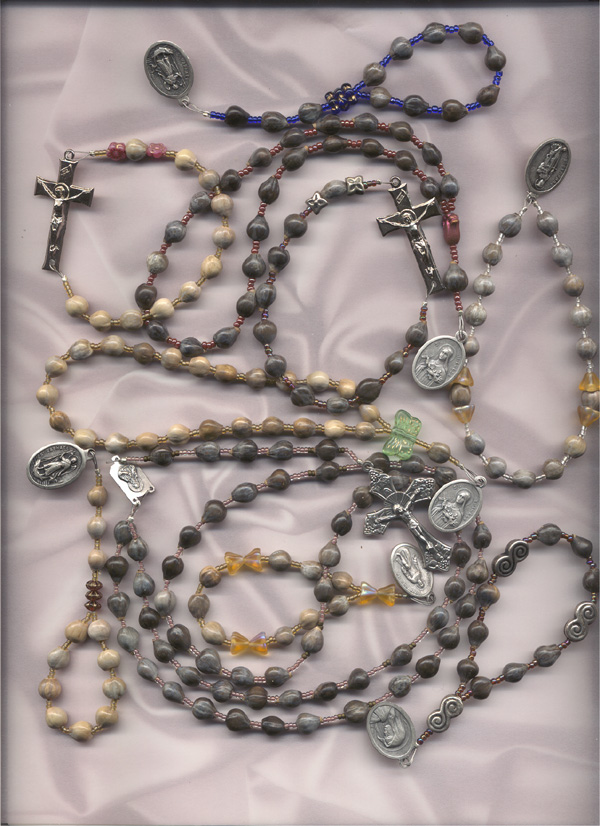 How we started
The art of making rosaries has been in our family for years. Our uncle is responsible for making and distributing over 30,000 rosaries in his lifetime. Not only has he made and distributed the rosary but he has also taught the Truths of our Faith. God only knows how many lives he has touched. It is our intention to keep this apostolate alive for many more generations. UPDATE: Thank you for your prayers. Uncle Bill is recouperating well from his heart operation as of 11/23/01.

Our Mission
Our family's mission has always been to spread the devotion to the Rosary and Our Blessed Mother, Mary. Through the sale of our Job's Tear rosaries the apostolate has been able to provide in the last 40 years over 30,000 rosaries and prayercards to the missions. It is our goal to continue this 40 year effort through your support. We hope you will enjoy visiting our web site and using our rosaries as much as we enjoy spreading the devotion to the Rosary and Our Blessed Mother, Mary.

A Family Effort
Family plays an important role in our apostolate. Every step in achieving the mission of Tears from Heaven relies heavily upon our family and friends. The seeds that are used to make the rosaries and chaplets are grown in our gardens, picked, reamed and sorted by hands of all ages. The job's tear rosaries are each made by hand to meet your specifications. Everyone pitches in in responding to e-mails and packing up the orders. The family also puts together mission rosary packets to send to those who want to learn to pray the rosary or who cannot afford to buy one. Mission rosaries are also sent to a group of nuns who travel the USA to aid in the evangelization efforts. They are also sent out by direct requests from our website. We have many friends and family who help in making the mission rosaries. Everyone involved has a devotion and desire to help spread the seeds of our faith!

Mary's Tear a/k/a Job's Tear Seeds
Also known as Job's Tears (Coix lacryma-jobi) is an annual grass the produces a fruit shaped like a tear drop. Since no one shed more tears than the Biblical Job, its name in the West, and thus in the botanical literature, was secured. Job's Tears were once an important source of food. It ranks along with wheat and barley in the Near East; beans, corn, squash and pepper in the Americas; and rice in Asia as one of the earliest domesticated plants. Job's Tears have been used for beads throughout history. Archaeological digs have uncovered strung job's tears in India dating back to 2000 B.C. It is the perfect fruit for stringing. It is certainly one of the rare natural beads in either the plant or animal kingdoms. At its tip is a hole that allows the flower to emerge. When picked off the stem, the rounded end breaks off, leaving a hole. The inside is so soft that it is easily pierced. A bead from God.